FUCHSIA PEPS
2020.10.12
Carlin Blog & News Letter
FUCHSIA PEPS
POSTED ON 12 OCTOBER 2020 BY CARLIN CREATIVE
フクシアの陽気
2020年10月12日/カルラン・クリエイティブ掲載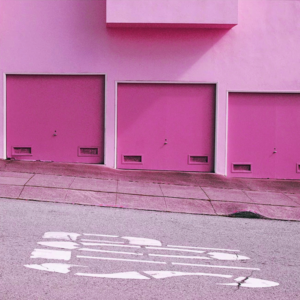 (©Kevin Metallier)
A revival blended with a touch of quintessence, this exalted palette insensitively stumps the end of summer.
カンテサンス(ものに宿る精神、真髄)をかすかにブレンドしたリバイバルカラー。高貴なパレットが夏の終わりを告げます。
SWEET METENSOMATOSIS
甘い輪廻(りんね)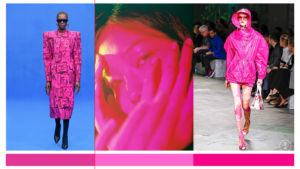 (@Balenciaga-@PetraCollins-@Versace)
EMOTIVE THROWAWAY
エモーショナルに無造作で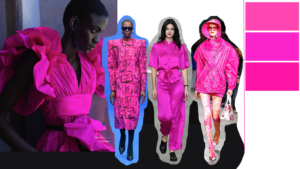 (@RalphRusso-@Balenciaga-@Agnesb-@Versace)
Highlighted by evanescent tones, this midnight palette is guiding us through this new start.
儚いトーンで強調されて、このミッドナイト・パレットが新しいスタートへと私達を誘います。
BLUISH PHANTASM
ブルーの幻想
ILLUSORY FICTION / EVASION
幻影的なフィクション/回避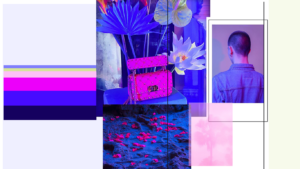 (Fuchsia Peps_4_04-@NeilKryszak-@Valentino-@CruCamara)
Nocturnal contestation mixed with a fluoride strand; irradiating polarized tones of an authentic pink against a surge of furtive blues.
ひとすじのフルオライド(フッ化物)を混ぜた深夜の諍い―偏光ピンクの明るく照らされたトーンに立ち向かう密かなブルーの波。
FORBIDDEN ESCAPE
禁じられた逃避
ELUSIVE MADNESS
曖昧な狂気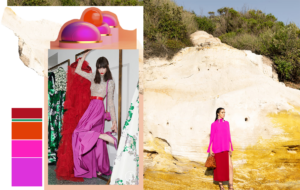 (@Valentino-@SerialCut-2)
Vitamin shot of an enticing red that will never keeps surprising you.
心をそそられるビタミン・レッドにいつも驚かされて。
ENIGMATISM
謎めいて
Indistinguishable expressions and chimerical thoughts.
読み取れない表情に奇想天外な思考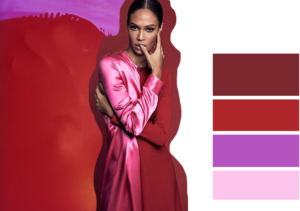 (@HarleyWeir @Xavi Gordo Harper's Bazaar)
Sensual insulation of a palette that will leaves you with a bitter aftertaste on one hand, but sweet and chocolatey on the other.
センシュアルに独立したパレット。一方でビターな後味を残し、もう一方でチョコレートのように甘く。
FIERY ALLIANCE
燃えるような同盟
FLAMING ECHOES
強く共鳴する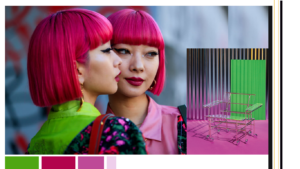 (@JonathanPaciullo @PaulRudolph)
2-in-1: two temperate and fiery tones is better than just one.
2つで1つ:2つの暖かい炎のようなトーン。1よりも2がベター。
MIDSUMMER OWL
真夏のフクロウ
EMOTIVE STROLL
エモーショナルな散歩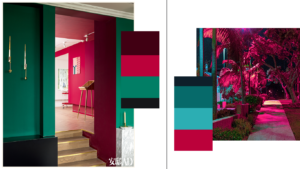 (@maisonjosephhangzhou @neilkryszak)
Temperate of blushing tones and nocturnal influences forming a clair-obscur.
抑えた赤のトーンと夜中の影が明暗のコントラストをつくる
PHANTASMAGORICAL
移ろう幻想
STOIC HEART
ストイックな心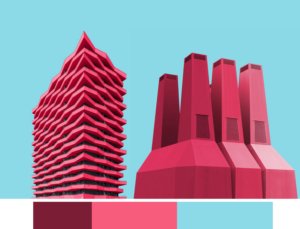 (@PaulEis)
Poetic saturation of raspberry accents.
ラズベリー色のアクセントが美しくあふれ出す
EUPHORIA
幸福感
ENERGETIC ELATION, EXHUBERANCE
エネルギッシュな高揚感、生命力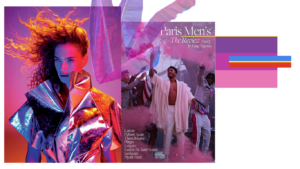 ( @KateBallis @CuneytAkeroglu @LongNguyen)
Desirability between mandarine spotlights projectors and pinkish spots.
オレンジの照明とピンクのあいだの色合い
HEROINE
ヒロイン
FANCY ICON
おしゃれなアイコン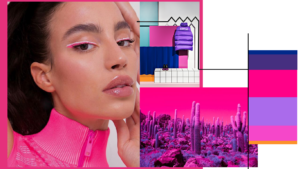 (@SarahFeingold @DariaZinovatnaya @KateBallis)
Never 2 without 3: Marriage between a perfect funky-pop Trio.
2度あることは3度ある:ファンキー・ポップなトリオ達の完璧なマリアージュ。
SMOOTH MINIMALISM
なめらかなミニマリズム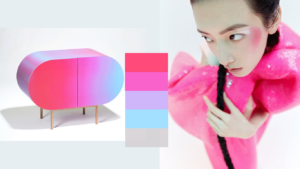 (@FedorBitkov @StudioOrijeen/ColorFlow)
Polarizing mirror irradiating a range of soft Japonizing tones.
ソフトで日本的なトーンを放つ偏光ミラー
CÉLINE LIU
STYLIST ASSISTANT